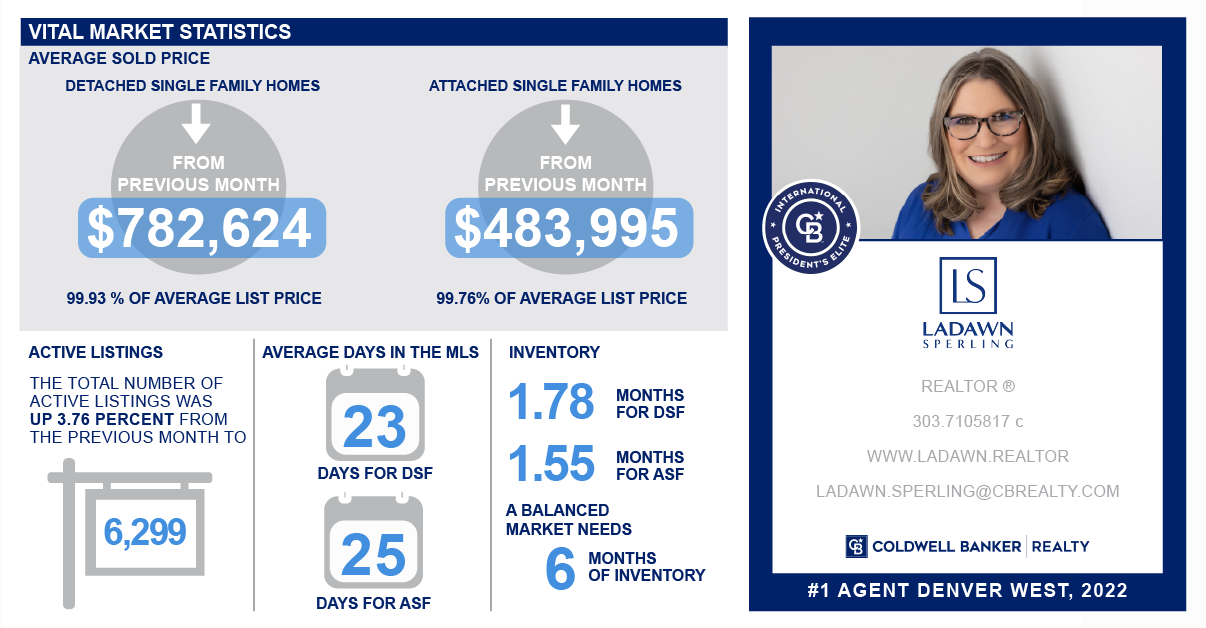 Pending sales and new listings decreased month-over-month. Active inventory has increased month over month but is down from where it was this time last year. Average days on market stayed the same month-over-month, and closed sales decreased showing that the market has started to slow.
August's vital statistics for all homes – detached single family (DSF) and attached single family (ASF) combined – included:
 

The average price for homes was down 2.43% compared to the previous month and up 0.68% from August 2022.

 

The average days in the MLS were up the same from the prior month and up 76.92% from a year ago. The median days in MLS increased from 7 days to 9 days month over month.

 

Active listings at months-end were up 3.76% from June and down 14.48% from this time last year.
Although active listings at month-end increased month over month, we saw a large decrease in new listings month over month and compared to this time last year as interest rates remain high. Many would-be sellers love their historically low interest rate but no longer love their home, leaving them in the "golden handcuff" dilemma. Many buyers in the current market need to sell their home before purchasing a new one which has resulted in an increase in contingent offers. Sellers are becoming more willing to accept these contingent offers as they realize the market is shifting.
Buyers who do not need to sell in order to purchase their next are looking at 2-1 buy-down programs to reduce their interest rates until rates decrease and they are able to refinance. These programs allow buyers to purchase with a lower interest rate now as opposed to waiting on the sidelines for rates to go down. Seller concessions increased from 29.2% at this time last year to 48%, and the close-to-list-price ratio dropped below 100% to 99.88%. This shows that buyers finally have more ability to negotiate.
Even though demand is slowing, inventory is still low and we are still in a sellers market. If you need any advice or assistance navigating our real estate market, contact me today at 303.710.5817 or ladawn.sperling@cbrealty.com. I am never too busy for your referrals.
This update is based on information provided by the Denver Metro Association of Realtors® for the period of July 1, 2023, through July 31, 2023, for the following counties: Adams, Arapahoe, Boulder, Broomfield, Clear Creek, Denver, Douglas, Elbert, Gilpin, Jefferson and Park.